The Hunterdon Art Tour is set for April 30/May 1!
Great news! The last weekend of April is a self-driving art tour, called "The Hunterdon Art Tour" and 90 area artists in 40 locations are opening up their studios to welcome visitors and I am one of those artists. You are invited to come see my art and working space!
I am so excited to be in my space and working on many projects, including the small works in my 100 Day Project. The landlord has repaired the building and tenants are moving back in.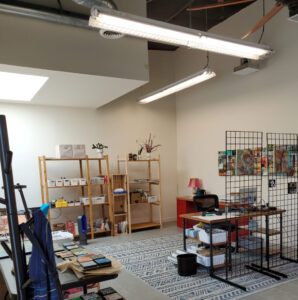 The Hunterdon Art Tour
Dates: Saturday, April 30 and Sunday, May 1, 2022
Address: Green Cottage Studios
"Canal Center"
278 N. Union Street, Suite 108
Lambertville, NJ 08530
My Open Hours:
11 am to 5 pm – Saturday
Noon to 5 pm – Sunday
There will be an exhibit of all the artists' work and an opening reception on Friday evening at Hunterdon Art Museum, Clinton, NJ. There will be opportunities to purchase art which supports the tour.
For more information see www.thehunterdonarttour.com
Maps are coming soon for the full roster of artists.
You can get directions to my studio at Google Maps.
Looking forward to seeing you in person!